15387818

AF528A

Temporarily Out-of-Stock

Call for next available delivery
Recommended Bundle:

Hewlett Packard Enterprise

Getting Details
HPE R5KVA 3U L630 High Voltage NA JP Uninterruptible Power System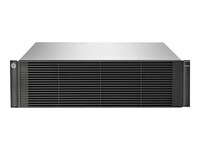 13357148

AF460A

In Stock

Ships Today
Provides 5000VA, 4500watt(s), 208V, 240V power
Surge Suppression is Standard
Connector(s): Power IEC 320 EN 60320 C19 (F), Power NEMA L6-30 (F)
9 Outlets
5.7 minute(s) Battery Runtime at Full Load
The innovative Minimally Switched Technology used in the HPE R5000 UPS improves the performance over traditional line-interactive UPS designs while reducing the cost, weight and size of traditional double-conversion online UPS designs. The digital signal processing (DSP) enables complete digital control of the UPS resulting in increased power conditioning, lower system cost and enhanced user interface interactivity. DSP technology enables the practical implementation of sophisticated UPS topologies and controls. The DSP can simultaneously control multiple power converters to optimize system efficiency and other performance characteristics such as enhanced battery management for extended battery life and improved output voltage regulation. The result is a higher performance UPS in a smaller, lighter, more reliable design -- an advantage for space-constrained equipment racks and cost conscious, co-located data center applications.
Batch Add Products by Item #
We noticed you may be an Enterprise Customer
Log into MarkITplace to access your company's standard products, custom pricing and other account-specific benefits